SLOconf 2023
May 15-18th

| IN-PERSON & ONLINE
A Global Event with a Local Feel
Service Level Objective Conference
About SLOconf
SLOconf is the only event dedicated to the practice and application of SLOs. The event features industry leaders in SRE, DevOps, and software engineering and is open to all.
Building on the success of SLOconf 2022, where we featured 63 companies and more than 1,000 leading brands from 83 countries in attendance over four days, our third trip around the world in 2023 will even be better!
What to expect
SLOconf 2023 highlights include:

A laser focus on Service Level Objectives
Selected longer deep dives, in addition to our snackable 10-minute format
Curated schedule and live stream
Community-driven success and learning stories about SLOs
Local in-person events in major cities around the world
Get the latest update by following @SLOconf on Twitter.
In the meantime, check out the talks from previous SLOconf events here.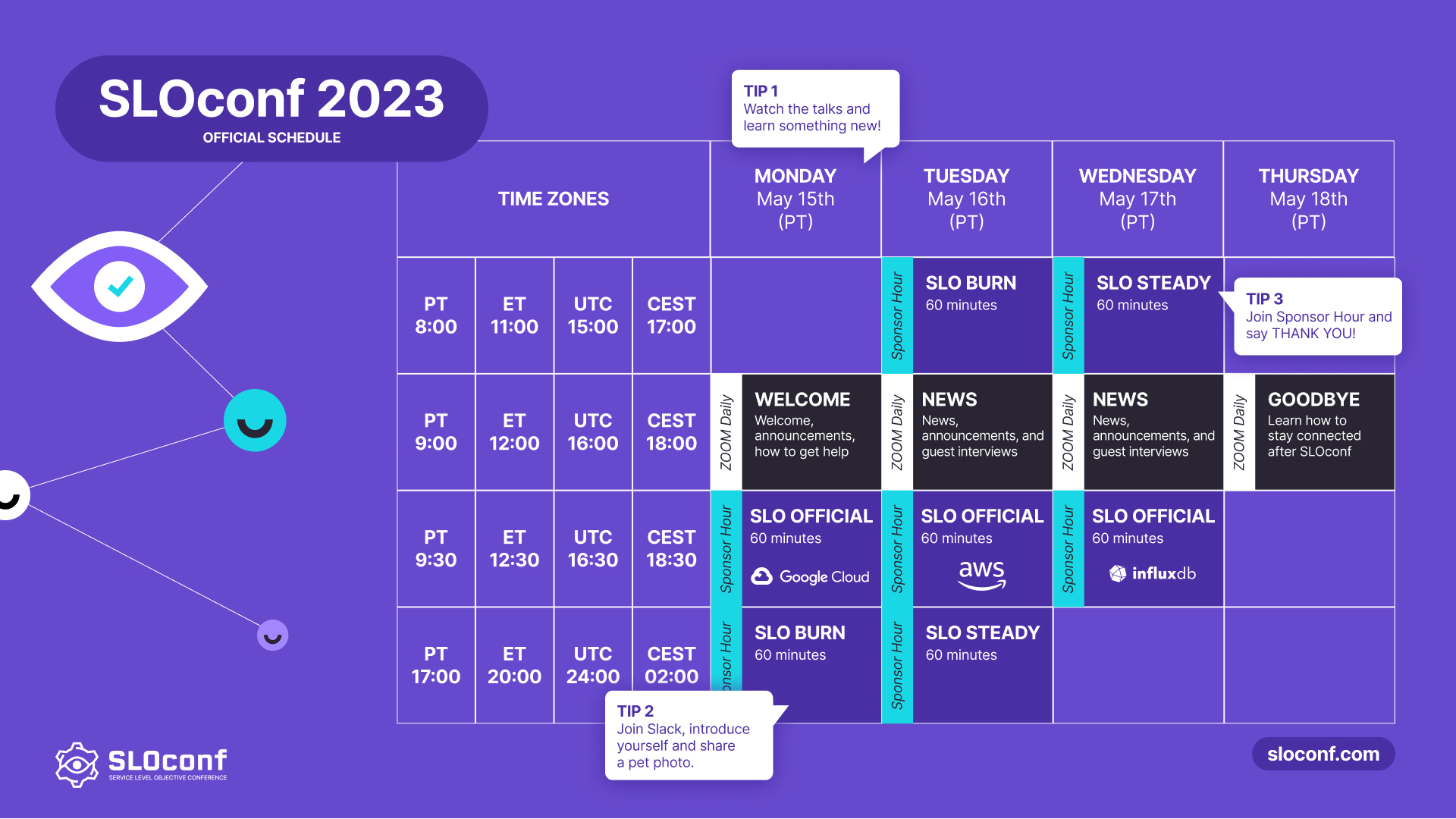 Local Events
For SLOconf 2023 we are facilitating a number of in-person SLOconf events to run concurrently with the primary virtual event. These "SLOconf Local" events will span the entire globe.
Automated deployments of SLOs Using Slot...
Don't Go Chasing Percentiles, Use Histog...
Using SLOs at Scale: How Disney+ Hotstar...
Culture Clash: Why DevOps, SRE and Cyber...
Media Assets
Package content:
All logo versions
PNG format
SVG format
AI format
Package content: All logo versions in the PNG, SVG and AI format.